The Union Gap Police Department is currently seeking qualified Lateral Police Officers. Applicants must be 21 years of age, possess a high school diploma or GED, possess a valid Washington State drivers license or be able to obtain one prior to date of hire, be a United States Citizen, and be a Certified Peace Officer in Washington State, or equivalent, with a minimum of two (2) years of paid service as a sworn Police Officer within the last five (5) years.
The City of Union Gap offers excellent benefits to include pay and vacation accrual commensurate to their prior years of service and a $15,000.00 signing bonus for qualified candidates.
Applications can be obtained here:
https://uniongapwa.gov/media/Employment-Application.pdf
Please submit applications to amanda.towle@uniongapwa.gov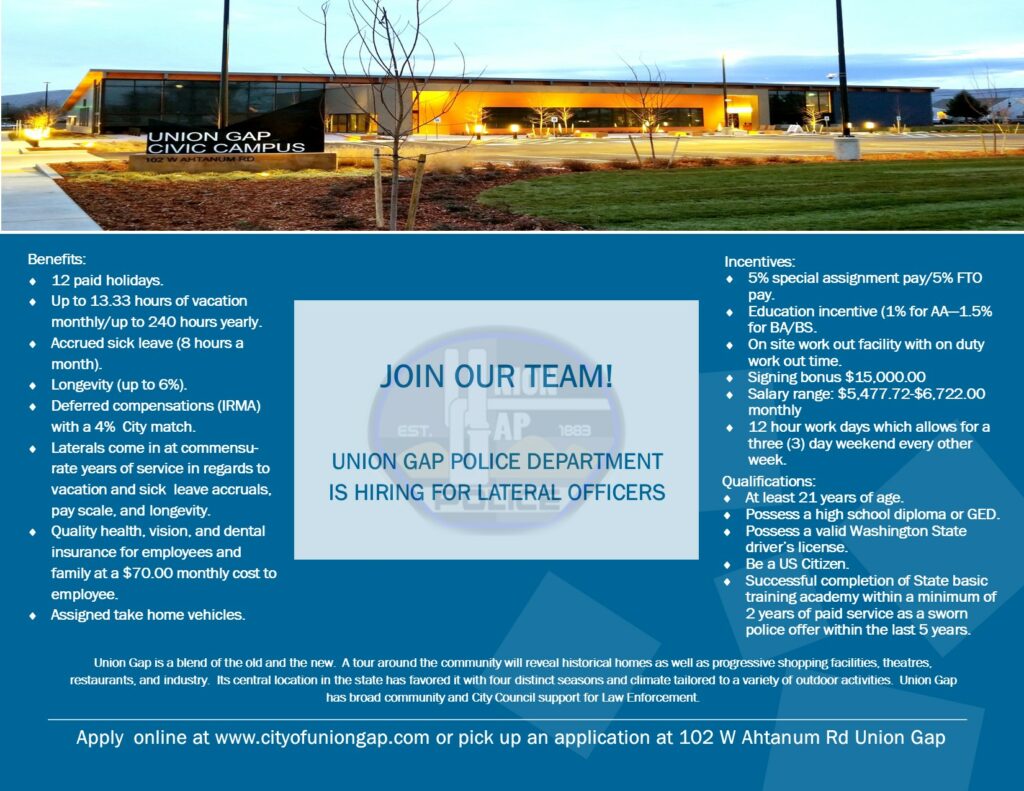 Mission
The mission of the Union Gap Police Department is to provide professional police services in partnership with the community to enhance the safety and quality of life to the citizens we serve.
Core Values
Teamwork
Through mutual reliability, flexibility and openness, we have a commitment to teamwork and cooperation among department members, city departments and the community in which we serve to accomplish our goals.
Integrity
A firm adherence to a code of moral and ethical values; behavior characterized by honesty, respect for others, accountability, consistency and sincerity that comprises the best practices of police work.
Professionalism
Treating everyone with dignity and fairness through knowledgeable, competent and ethical policing. We continually strive to work with the community we serve and be responsive to the communities' needs and concerns.