all information provided by Yakima Health District website: https://www.yakimacounty.us/2401/Yakima-County-COVID-19-Testing-Sites
Symptoms may appear 2-14 days after exposure to the virus. People with these symptoms or combinations of symptoms may have COVID-19:
Cough
Shortness of breath or difficulty breathing
Fever
Chills
Repeated shaking with chills
Muscle pain
Headache
Sore throat
New loss of taste or smell
If you are experiencing these symptoms, call your primary care provider for testing. If you don't have a primary care provider you can call 2-1-1 between 8am-5pm Monday-Friday.
---
YAKIMA COUNTY TEMPORARY TESTING SITES
COVID-19 Testing Site Schedule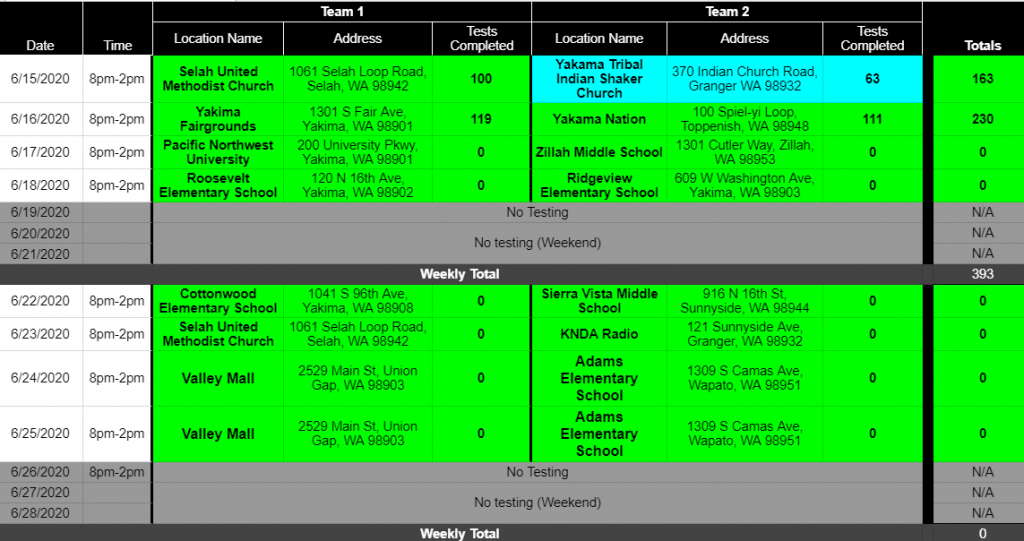 ---
The Yakima Health District, Washington National Guard and the Yakima County Office of Emergency Management are setting up COVID-19 testing sites in the community this week from 9 a.m. to 2 p.m., or until supplies run out.
Appointments can be made for testing by calling 2-1-1.
You will receive your results via phone call within 3 days. If it's been 4 days since you were tested, and you have not received your results, call (509) 225-2088.
For a list of current community-based testing sites please visit the Yakima County Office of Emergency Management webpage:
https://www.yakimacounty.us/2418/COVID-19-Testing-Site-Information
YAKIMA ON-GOING TESTING SITES
Healthy Now- Creekside Drive-Thru Screening
3909 Creekside Loop, Yakima WA. 98902
509-225-4669
Additional information: Call for appointment.

Yakima Valley Urgent Care Drive-Thru Screening and Testing
17 E. Valley Mall Blvd. #2B, Union Gap. WA 98903
509-367-8733
Additional Information: Virtual Screening at http://www.yakimavalleyurgentcare.com/features
Appointment will be booked following the screening.

Mountain View Medical Clinic Drive-Thru Screening and Testing
3904 Terrace Heights Dr. Suite D, Yakima, WA 98901
509-902-1931
Additional Information: Call to schedule Telehealth appointment & drive-up screening.
LOWER VALLEY TESTING SITESAstria Health Center- Zillah Clinic Telehealth Screening
915 Vintage Valley Pkwy Suite 200, Zillah, WA 98953
509-314-6565
Additional Information: Call for appointment

Astria Toppenish Hospital Drive-Thru Testing
502 W. 4th Ave. Toppenish, WA 98948
Additional Information: Astria Health Zillah will schedule appointment and provide further instruction